Graines de pavot présentes sur du pain anormalement contaminées aux alcaloïdes de l'opium en France
Following positive opiate urine testing in employees working in risk positions in a transport company while these subjects claimed to consume nothing other than poppy seed sandwiches, a study was carried out to evaluate the opiates content of poppy seed baguettes and sandwiches as well as the urine, saliva and plasmatic concentrations observed after consumption of these products. Eleven people took part in this study, 6 ingested a whole poppy seed baguette and 9 ate a sandwich. Urinary concentrations for opioids were measured for 48 hours, saliva was analyzed for 10 hours, and plasma levels were measured up to 3.5 hours in one subject. Analyses were performed using liquid chromatography – tandem mass spectrometry. In order to highlight biomarkers of exposure to poppy seeds, urine samples were also analyzed in high resolution mass spectrometry with a metabolomic approach. The concentrations found in poppy seeds for morphine, codeine, thebaine and laudanosine are 530 mg/kg, 80 mg/kg, 300 mg/kg and 10 mg/kg, respectively. Urine concentrations observed after ingestion of the baguette were all positive until 18 h with maximal average concentrations observed at H4 around 2800 ng/mL for total morphine and 700 ng/mL for total codeine. After ingestion of a sandwich, all urines tested positive for morphine until 18 h, with a maximal average at H4 around 1800 ng/mL and 360 ng/mL for total codeine. Some were still positive after 48 h. In plasma, the morphine concentrations were between 18 and 19 ng/mL, corresponding to pharmacologically active concentrations. Noscapine and 6-acetylmorphine are biomarkers for heroin intake, while thebaine and for the first time here, 6-O-desmethylthebaine-glucuronide and O-desmethyl-laudanosine-glucuronide are identified as biomarkers for poppy seeds ingestion. This study showed the presence of morphine and codeine in very large quantities in some commercially available breads. These concentrations, far superior from the European Food Safety Authority's (EFSA) recommendations, can have major consequences particularly from a forensic point of view or in the context of occupational medicine, but also for the health of the most vulnerable populations. The detection of thebaine should be systematically performed when looking for opiates in blood, urine and saliva to facilitate interpretation of the results.
Suite à des dépistages urinaires positifs en opiacés chez certains employés travaillant sur des postes à risque dans une société de transport alors que ces sujets prétendaient ne rien consommer d'autres que des sandwichs aux graines de pavot, une étude a été menée afin d'évaluer la teneur en opiacés des baguettes et sandwichs aux graines de pavot commercialisés dans certaines boulangeries ainsi que les concentrations urinaires, salivaires et plasmatiques observées après consommation de ces produits. Onze personnes ont participé à cette étude, parmi elles 6 ont ingéré une baguette entière aux graines de pavot, et 9 un sandwich avec ces graines provenant de 2 boulangeries situées à Paris et à Versailles. Les concentrations urinaires des différents opiacés ont été mesurées durant les 18 h qui ont suivi l'ingestion des baguettes et les 48 h suivant l'ingestion des sandwichs, une recherche salivaire a été effectuée durant 10 h et les concentrations plasmatiques ont été mesurées jusqu'à 3,5 h chez un des sujets après ingestion du sandwich. Les analyses ont été réalisées en chromatographie liquide couplée à la spectrométrie de masse en tandem. Afin de mettre en évidence d'éventuels biomarqueurs spécifiques d'exposition au graines de pavot et discriminant d'une prise d'héroïne, les échantillons d'urine ont également été analysés en spectrométrie de masse haute résolution avec une approche métabolomique. Les concentrations retrouvées dans les graines de pavot sont pour la morphine, la codéine, la thébaïne et la laudanosine de 530 mg/kg, 80 mg/kg, 300 mg/kg et 10 mg/kg, respectivement. Après ingestion d'une baguette, toutes les urines sont positives pendant au moins 18 heures, durée du recueil, avec des concentrations moyennes maximales à H4 atteignant pratiquement 2800 ng/mL pour la morphine totale et 700 ng/mL pour la codéine totale. Après ingestion d'un sandwich, les urines sont toutes positives en morphine totale jusqu'à 18 heures avec des concentrations moyennes maximales à H4 de l'ordre de 1800 ng/mL et 360 ng/mL pour la codéine totale. Certaines sont toujours positives 48 h après ingestion. Dans le plasma, les concentrations de morphine retrouvées sont comprises entre 18 et 19 ng/mL, soit des concentrations actives pharmacologiquement. La noscapine et la 6-acetylmorphine ne sont retrouvées qu'après prise d'héroïne, alors que la thébaïne et pour la première fois décrit ici, la 6-O-desmethylthébaïne-glucuronide et la O-desmethyl-laudanosine-glucuronide ne sont présents qu'après absorption de graines de pavot. Cette étude a montré la présence de morphine et de codéine en quantité très importante dans certains pains aux graines de pavot disponibles dans le commerce. Ces concentrations, bien supérieures aux recommandations de l'Autorité Européenne de Sécurité des aliments (EFSA), peuvent avoir des conséquences importantes dans un cadre médicolégal ou dans un cadre de médecine du travail, mais également présenter des risques pour la santé sur les populations les plus fragiles. La recherche de thébaine devrait être réalisée systématiquement lors de la recherche d'opiacés dans le sang, les urines et la salive afin de discriminer une prise de graines de pavot d'une prise d'héroïne.
Fichier principal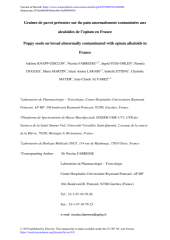 S2352007819302008.pdf (926.29 Ko)
Télécharger le fichier
Origin : Files produced by the author(s)